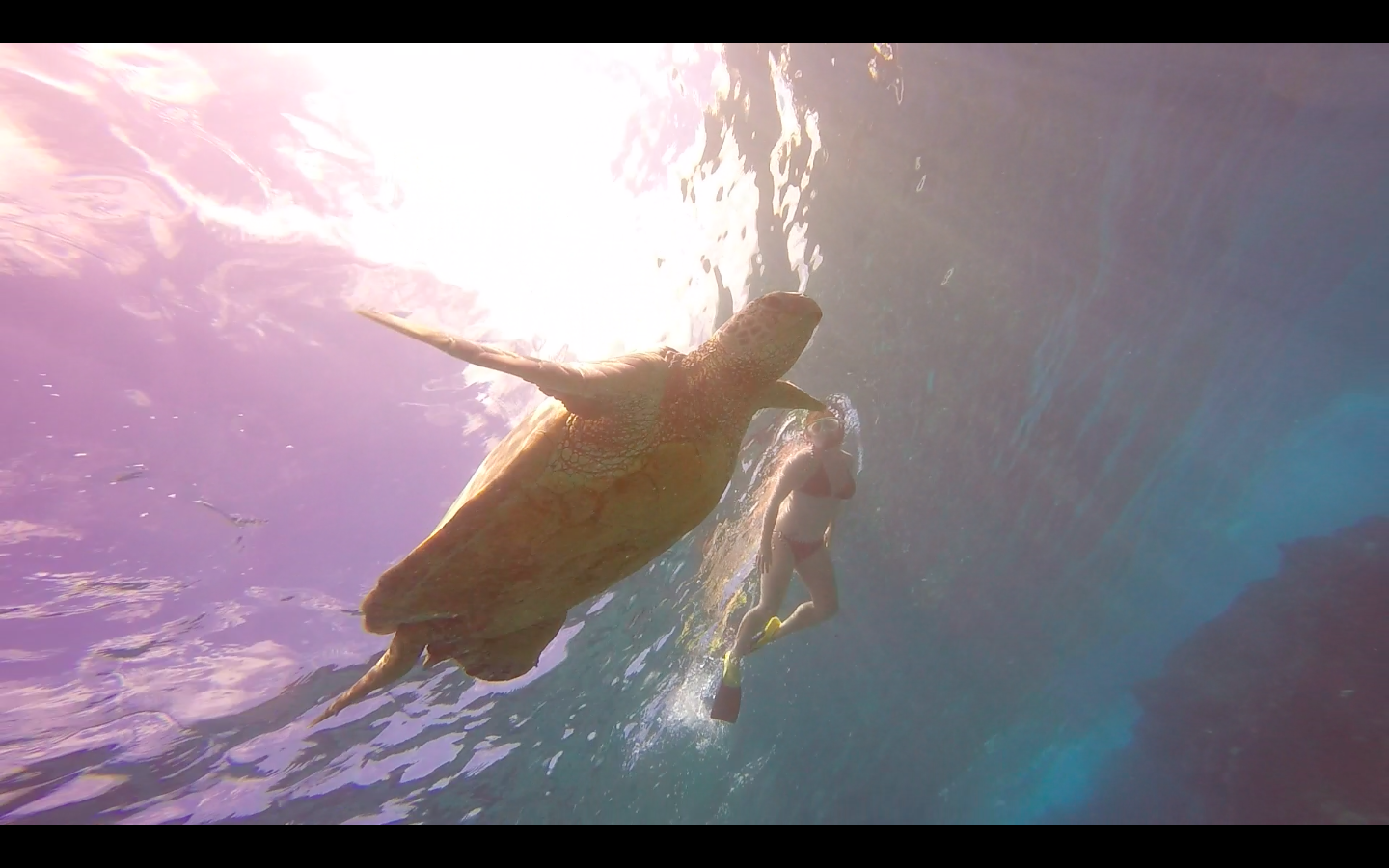 It's hard to believe but it was over three years ago that I first started tinkering with the idea of making a film about how balloon release ceremonies affect ocean wildlife.
We have now finished all of the filming and have received many contributions of photos and videos of animals and even people who have been killed by balloons and the helium used to fill them. It's an ironically heavy topic considering we are focusing on something virtually weightless. Despite the seriousness of the issue, though, the journey has been a positive one – and for me, a deeply personal one.
My daughter was born in the early stages of making the film and would come along, strapped to my back, while we visited sea turtle hospitals, interviewed academics and activists, and traveled around the country, exploring this issue.  For me this film is more than a big project, it's a part of my daughter's childhood history and my journey into motherhood.
We had hoped to finish the film in August of this year but had a set back when we hired a British editor named Adam back in June.  He was in Australia temporarily and very eagerly replied to my call for editors. He seemed perfect for the role. Enthusiastic, experienced, passionate about conservation and animal rights. But after pre-paying him (a naive mistake on my part), he returned to the UK and has been incommunicado ever since. A part of me wonders if he was hit by a truck but I feel the truth is he realised the project was going to be a huge undertaking and decided to do the wrong thing and just disappear rather than admit that he had got in over his head. As a freelance editor, he has no website or social media channels (another red flag as I look back in retrospect) and thus, no way for us to urge future clients away from him.
Luckily Adam was only paid a modest sum with the promise of a cut of the profits should the film find any financial success. His payment came out of the pool of donations we received through our Indiegogo crowd funding campaign. My partner and I refuse for those donations to have been in vain so we will be putting our own money back into the pool to pay our new editor.
The good news is we do have a new editor. Jenni is a locally-based dive photographer with a tremendous passion for ocean conservation and a long history in film production. She is at the end of a five month dive excursion right now but will be returning next week and then taking over the editing reigns. Jenni also has experience with the process of applying to environmental film festivals which could be a huge benefit to the project. A part of me wonders if the Adam experience was always meant to happen to teach me what not to do in this business and ultimately lead me in the right direction.  Regardless, we are committed to seeing this film through and hopefully it will help people to understand about this important issue and possibly even inspire some policy changes.
As I mentioned, my partner and I will be covering the costs of replacing what was stolen but we do have other things coming up on the horizon that we will need to pay for. Namely, a media lawyer to check that we have ticked all the right boxes and prepare a document stating this for film festivals and broadcasters. We will also need to create a poster for the film. If anyone would like to donate (or knows a philanthropist who might like to get involved), all contributions to Rubber Jellyfish over $2 are tax deductible through the Documentary Australia Foundation: https://www.documentaryaustralia.com.au/films/4021/rubber-jellyfish
We would also be very interested in leads on media lawyers or graphic designers who might be interested in doing some pro bono work for us.
Thanks to you all for all your support thus far!
<3 Carly